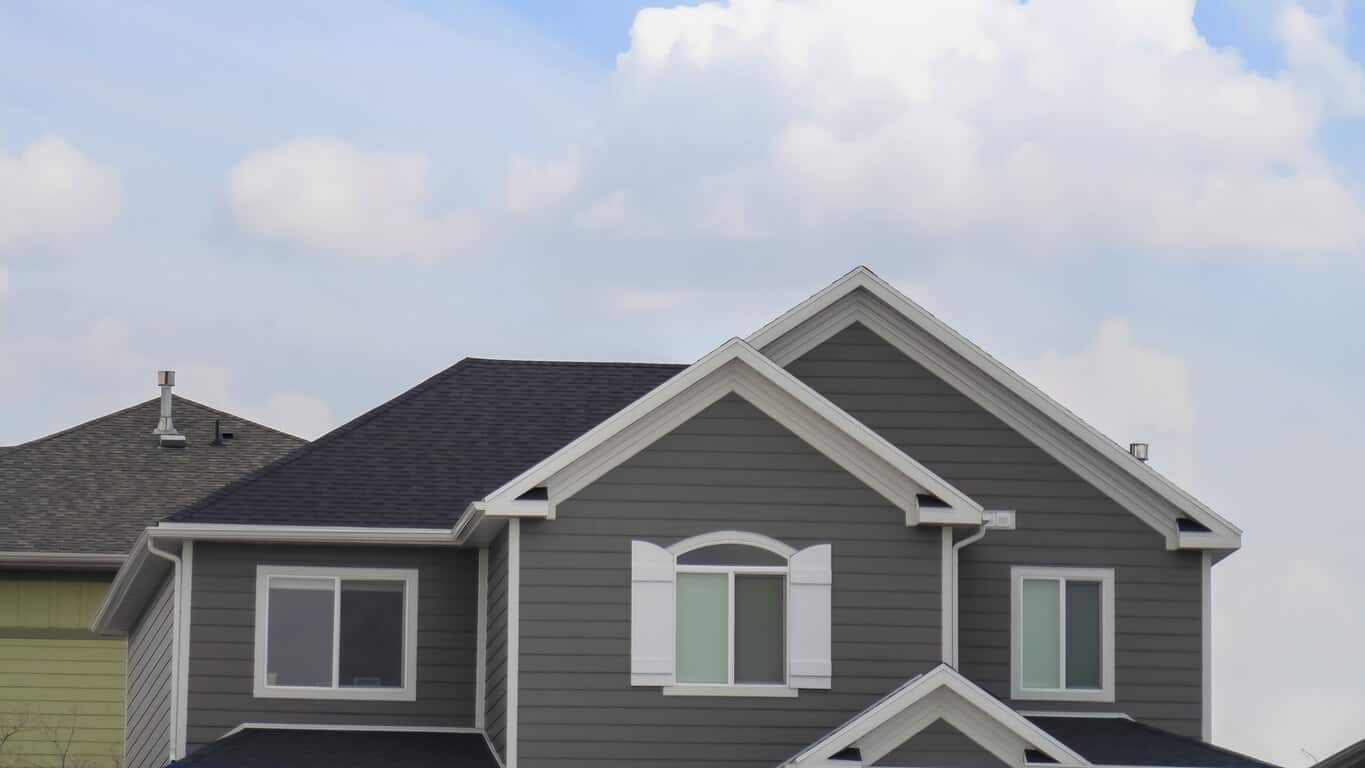 It may be time to throw some home design rules out the window. For example, why shouldn't you be able to choose a dark house exterior if that's what you prefer? Dark colors are gaining in popularity. So, you should no longer be afraid to choose dark gray and dark trim for your house – if that's what you prefer.
Here are some ideas to consider when selecting dark exteriors.
Dark exteriors can add punch to your not-so-exciting home.
A dark exterior paint color creates a bold visual statement. So, if you are looking for ways to add character to your typical house, consider a dark-colored exterior to make it stand out more.
You don't have to choose black. Instead, opt for another dark color, such as dark gray (perhaps with blue undertones). Of course, dark blues and greens may look great on your home's exterior. Don't shy away from making a bold statement!
Dark exteriors look great on modern homes.
Fans of contemporary house design would not be surprised to encounter a black house. Darker siding and paint colors are often used in the exterior design of modern homes.
Darker colors sometimes add warmth to a design and give the space a reassuring, grounded feel.
Consider light or dark trim on your dark-colored home.
There are no rules when choosing the trim color for a dark-colored home.
Some keep the entire house dark by choosing black window trim, black windows and doors (and black shutters). Others absolutely love the contrast of white trim against black surfaces.
Dark siding looks great against natural wood accents and greenery.
Some people use dark exterior colors to draw attention away from the structure because they wish to highlight the lush surrounding landscape. A dark exterior paint color looks especially great in a wooded area.
But dark colors don't do great in hot, sunny areas!
Of course, if you live in a hot area with few trees, you should avoid using a darker color on your home. Lighter colors don't fade as quickly as black houses. And dark colors also absorb more sunlight, making your interior more expensive to cool during the summer.
Are you considering dark gray, blue, green, or black for your siding? Contact Woodbridge Home Solutions for help!
We at Woodbridge Home Solutions know a thing or two about improving a home's curb appeal. We have worked in the exterior remodeling industry for decades. During our years in business, we have assisted thousands of Texas, Oklahoma, and Kansas homeowners with selecting exterior colors that best suit the style of their homes.
Contact Woodbridge Home Solutions today if it's time for replacement vinyl siding. We'll show you our portfolio of dark homes we have completed to offer you inspiration for your project.
Things to Consider About Dark Homes
Don't be afraid of dark siding or paint colors on homes.
Dark siding looks great against natural wood accents and lush greenery.
You can choose dark trim or trim in contrasting colors.
However, be mindful that light colors might be better for homes in warm climates with little shade.