Special Offer
Buy One Window, Get One 50% Off
&
20% Off Your Siding Project or 2 Years No Interest
*Offer expires 11/30/22
HOME REMODELERS IN KANSAS
Top quality vinyl siding, doors, and windows installation and replacement
Woodbridge Home Solutions
Providing Doors, Replacement Windows, and Vinyl Siding in Kansas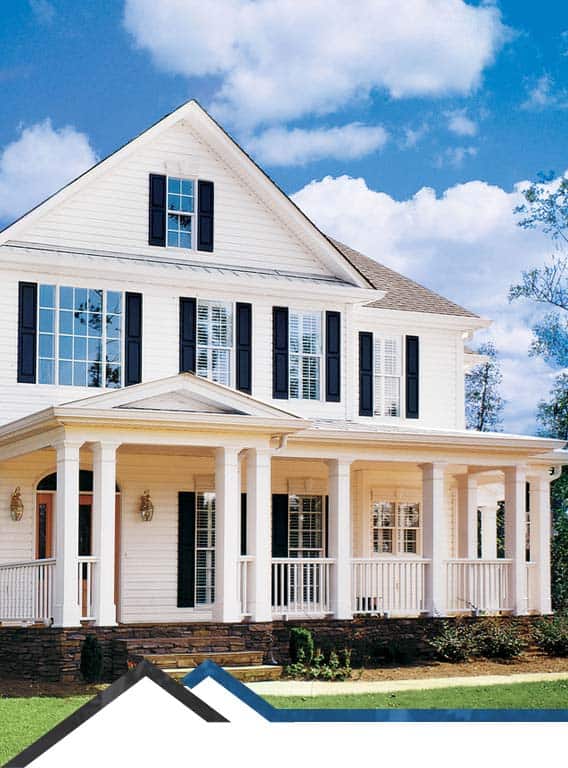 Three Generations of Serving
Kansas


Since 1989, Woodbridge Home Solutions has been a locally-owned and operated family home improvement business. We're dedicated to making your Kansas home the best it can be!
Our friendly and knowledgeable staff is here to assist you with your exterior remodeling project every step of the way. All of our installers are insured, certified and bonded, and offer design assistance to help you choose the right windows, vinyl siding, or door option for your home.
Trusted Doors, Windows, and Siding for Your Home
Woodbridge Home Solutions has been a trusted provider of new windows and vinyl siding in Kansas for over 25 years and is largely revered as one of the best window replacement companies. We happily service commercial and residential properties and provide you with a one stop shop with affordable prices on many window options. When you invest in new siding and window installations for your home, you can be sure you will receive the following:
Long-Lasting Durability. Our new vinyl siding and window replacements are strong and resistant to severe weather to withstand Kansas storms and harsh climate conditions.
Enhanced Curb Appeal. New siding and windows from Woodbridge offer unique beauty to your home exterior. Our manufactured siding comes in a variety of styles, designs, and colors to make your home stand out as the envy of the neighborhood.
Improved Energy Efficiency. By properly insulating your home, you can decrease your excessive usage and dependence on your HVAC system, thus saving you money on high heating and cooling bills by being energy efficient.
Special Warranties. Rest assured that when you invest in a house siding project from Woodbridge Home Solutions, your purchase is protected by our labor warranty and manufacturer's transferable lifetime warranty. For those that qualify, we also offer tailored financing options to make a home improvement project as easy as possible.
Get in Touch Today
If you'd like to learn more about our home improvement company, contact
Woodbridge Home Solutions today for a free in-home estimate.
Locally Made and Professionally Installed Windows in Kansas
Whether you are shopping for new windows in Kansas or are interested in window replacement for your existing windows to increase energy efficiency, turn to Woodbridge Home Solutions, one of the premier window companies in Kansas. We are the window replacement company experts of all window replacement companies in the window world, and we offer the highest quality windows with precision window installation.
Our exclusive replacement windows product line, Woodbridge Classic, is carefully crafted in the United States. These are the finest vinyl windows in the window world of Kansas! They feature triple-pane window glass and other energy-saving features to help minimize heat transfer. Installing these windows or casement windows with our window installers in your home leads to lower heating and cooling bills to help save money!
Buy windows for your Kansas home!
Woodbridge Home Solutions replacement windows in Kansas come in a variety of window styles, including:
Double-hung windows
Bay windows
Specialty windows
Vinyl windows
Energy efficient windows
Energy star windows
Wood windows
Business windows
Replacement windows
Sliding windows
Casement windows
Picture windows
We also do home window glass replacement in Kansas! You'll be amazed by how much having your new windows installed by our installation crew will improve the look of your home.
Our window replacement in Kansas is backed by one of the strongest warranties!
The Woodbridge Home Solutions premier vinyl windows line comes with a Lifetime Manufacturer's Transferable Warranty, covering lifetime labor on your home window glass replacement.
Kansas window replacement has never been easier!
Learn more about Woodbridge Home Solutions Energy Star energy efficient windows by contacting us today. We offer a free in-home estimate and window replacement quotes for top-notch window installation by our window installers in the Kansas area.
Low-Maintenance Vinyl Siding in Kansas Will Enhance the Beauty of Your Home
Are you looking for a Kansas siding company that will expertly install premium vinyl siding while lowering your heating and cooling bills? Woodbridge Home Solutions is one of the premier siding contractors in Kansas. We offer a great product for your home's exterior (including soffit and fascia) and superior siding installation.
Our Kansas siding installation crews will improve the look of your home!
Our exclusive Woodbridge Classic premium Kansas City vinyl siding is durable. It's made from strong, impact-resistant resin with stabilizers that prevent degradation from heat, offering superior protection from warping, shrinking, swelling, denting, and rotting.
If you are looking for vinyl siding in Kansas to improve the looks of your old siding on your home or business, contact Woodbridge Home Solutions. Our premium vinyl siding options for homes features an attractive wood-grain textured surface with pigment incorporated throughout the material (rather than being painted on) and a protective polymer coating, which means you won't have to worry about wood rot or the color fading with our quality installation. The result is a home with a beautiful appearance for decades.
And when you select Woodbridge Home Solutions as your vinyl siding installers, you'll have one-third fewer seams because our new vinyl siding is much longer than those offered by other siding companies.
Our house siding can increase your home's energy efficiency!
Are you tired of high energy bills? Your home will be more energy efficient when using our Woodbridge Classic product line as the best vinyl siding for your house.
Learn more about letting us install vinyl siding, seamless siding, our siding materials, or replacing your existing siding in Kansas (as well as siding repair) by scheduling an obligation-free estimate for your home. Contact us today, the expert siding installers at Woodbridge Home Solutions today for more information on replacement siding installation with superior service and a free in-home consultation.
Woodbridge Home Solutions: Where to Go For Doors in Kansas
Turn to Woodbridge Home Solutions for replacement doors in Kansas.
Types of doors we offer:
Front doors
Sliding glass doors
Patio doors (sliding)
Entry doors
Sliding exterior doors
Wood doors
Exterior entry doors
Steel entry doors
Storm doors
French doors
Replacement doors
Interior doors
And more!
We are the best source for custom front doors and door repair or door installation in Kansas!
Improve your home's curb appeal and entryway with residential door replacements!
Woodbridge Home Solutions offers beautiful exterior doors and door installation in Kansas. Our new doors come in many different colors, textures, and designs. We'll help you design a custom sliding door (or any other style of door like a storm door or even storm DOORS) so your home stands out from the rest.
Keep your family safe with Woodbridge's durable exterior doors.
New entry doors or a new patio door in Kansas will welcome your guests, but they also act as your front line of defense against potential intruders. Make your family's safety your number one priority. So make your home more secure by shopping at THE door store in Kansas!
Save on heating and cooling bills by replacing your doors and windows in Kansas!
Woodbridge Home Solutions doors include the best-in-the-industry weatherstripping and a warm-edge spacer system that significantly reduces heat transfer. You'll be amazed to see what a difference your energy efficient Kansas patio door replacement can make on your energy bills.
Contact Woodbridge Home Solutions for door installation in Kansas.
Our exterior doors and interior doors are covered under a lifetime warranty for products and labor from our door installers (as well as a seven-year warranty on the exterior finish).
Are you looking for doors in Kansas?
Contact Woodbridge Home Solutions today for windows, doors, and more for your home's exterior for your home improvement projects. Ask about our new door customer satisfaction, professional installation process, or financing options for interior doors, wood doors, French doors, a new door or back door, and even custom doors in Kansas.
Areas Served

Business Hours
Monday – Friday: 8:30AM – 5:00PM
Saturday & Sunday: Closed